paulonleave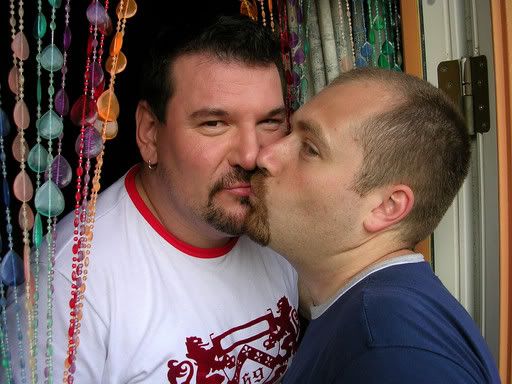 Jaap (left) and Aldo (right), July 17, 2005
It was, I dunno, four or five years ago, when Bob and I came home from somewhere, and found an unusual message on our answering machine. A slightly hesitant, high-pitched voice said, "Hello. My name is Aldo. I am a friend of Pigi. He told me I should call you. I will call back."

Pigi is a man who lives in Milan whom Bob had met (through

parisianbear) several years earlier. They had spent a couple of days together and had really hit it off. Aldo, a close friend of Pigi's, had just arrived in Toronto from Pisa to take up a post-doc in chemistry at U of T, and he knew nobody. It was the Thursday of Gay Pride week when we finally connected with him in person, so we invited him to our Gay Pride Party the next night.

He turned out to be the hit of the party, and we hung out with him for the whole weekend, introducing him to Toronto, the Gay Parade, and many of our friends. At first Aldo was living in Massey College at U of T, but he soon found an apartment on Spadina Road, not far from us, and we became good friends. For much of the next year or so, Aldo and I would meet once a week for English/Italian lessons. I would answer whatever questions of English usage he had been puzzled by during the week, and explain some of the more colloquial aspects of the language or we would print out an article from an Italian newspaper and I would try to read it, with frequent hints and explanations from Aldo.

Alas, all too soon, Aldo returned to Europe. Now he is living in Amsterdam, doing another post-doc in chemistry. And this past weekend, I went to visit him. I've been to Amsterdam, or A'dam, as I like to pretentiously call it, a number of times over the years, so this wasn't really a tourist visit. No Rijksmuseum, no Van Gogh Museum, no quick trip to the Hague to look at the Vermeers. Mostly, I hung out with Aldo and, sometimes, with Aldo and Jaap, Aldo's Dutch boyfriend.

Aldo met me at the Centraal Station and led me to his apartment on Gelderskade, a short walk from the station and conveniently close to the gay bars of Warmoestraat. Then he had to go back to work for a few hours. I took a stroll around town, reacquainting myself with the city that I hadn't visited for several years, and then met Aldo back at his apartment. We went to Humphrey's for dinner and then while we were having our dessert, we were joined by Jaap. Humphrey's is just across the square from The Cuckoo's Nest, so we went there for an after-dinner drink. It was closing early (for a Gay Skinhead Party), so we moved around the corner to The Web, and then Aldo and Jaap went back to Jaap's apartment, leaving me to explore a little at Argos, The Eagle and Dirty Dicks. (If these names mean anything to you, you can probably picture how I spent my evening. If you don't know Amsterdam or its gay scene, it will suffice for me to say that they are all popular bars.

Bob had been to A'dam a few weeks earlier, so he had reported to me that Jaap was very nice and that the relationship between Aldo and Jaap seemed to be very healthy and strong, and that was certainly my impression as well. Because we met Aldo when he was a complete newcomer to Canada (with an imperfect grasp of English), I think Bob and I feel rather "protective" of him, so we wanted to check out the new man in his life with our own eyes. In fact, I liked Jaap immensely. He seemed very relaxed and funny, as well as being quite sexy. So I gave the relationship my blessing.

I saw more of Aldo than Jaap, of course. On Friday and Saturday nights, Aldo slept at Jaap's so I could have his apartment to myself, but he came over each morning. We ate dinner together on Friday and Saturday, and then on Sunday, Aldo cooked dinner at Jaap's for the three of us – pasta, of course – and then we went to Leidseplein for ice cream.

Aldo is a linguistic marvel: not only has his English gotten stronger and stronger (although he still has his liquidly seductive Italian accent), but he has begun to learn Dutch as well. I loved hearing him and Jaap mutter sweet nothings to each other in Dutch. At least, I think they were "sweet nothings"; I couldn't understand, of course, so it may well be that they were discussing groceries or Hollywood movies, instead. I even got to see a dvd of one of Jaap's shows (he is a part-time female impersonator) in which Aldo had a minor role, speaking his lines in clear but charmingly accented Dutch. Jaap, like practically everyone else in Holland, speaks excellent English.

So, it was a great weekend. I'm hoping that Aldo and Jaap will come to Toronto in the fall for a visit; any of my friends who know Aldo, feel free to email him with encouragement....